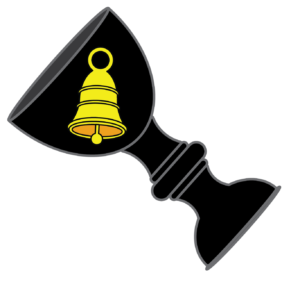 Order of Sante Ruprecht
Created by their Excellencies, Cosmo and Kis Maria, the Order of Sante Ruprecht is awarded to those who have served the Barony for a lifetime. Its members have worked tirelessly to improve and support the Barony for decades including longstanding officers, event staff, and the Baronies former Barons & Baronesses. The award can be given once a year and their Excellencies consult the members of the order before awarding a new member.
Blazon: (fieldless) On a chalice bendwise sable, a bell palewise.
| | | | | |
| --- | --- | --- | --- | --- |
| Recipient | Year | Month | Day | Event |
| Rupert the Unbalanced | 2011 | October | 22 | Ghosts, Ghouls, and Goblins |
| Mary Theophania Hunn | 2013 | January | 12 | Bellringers |
| Ichabod the Tall | 2014 | February | 1 | Bellringers |
| Brigit inghean ui Dhomhnaill | 2015 | January | 17 | Bellringers/12th Night/Investiture |
| Robert the Doubtful | 2017 | October | 14 | Ghosts, Ghouls, & Goblins |
| Lillian atte Valeye | 2018 | January | 20 | Bellringers |
| Tysha z Kieva | 2019 | February | 9 | Bellringers |
| Aaron the Arrowsmith | 2020 | February | 8 | Bellringers |