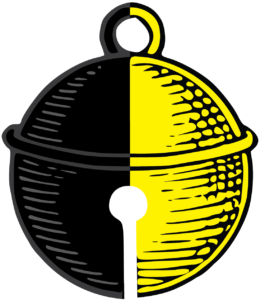 Order of the Bellina
Created by their Excellencies, Cosmo and Kis Maria, the Order of the Bellina of Carillion honors the service of the children of Carillion. It recognizes those under the age of eighteen who want to help and be involved.
Blazon: (Fieldless) A hawk's bell per pale Or and sable.
| | | | | |
| --- | --- | --- | --- | --- |
| Recipient | Year | Month | Day | Event |
| Matthew of Carillion | 2012 | June | 9 | Southern Region War Camp |
| Joey of Carillion | 2012 | June | 9 | Southern Region War Camp |
| Marieke of Carillion (Maggie) | 2012 | August | 5 | Pennsic War |
| Serina | 2014 | November | 1 | Ghosts, Ghouls, & Goblins |
| Emine bint Hamza ibn Habib ibn Hasan (was: Erin inghean Chonchobhair) | 2017 | August | | Pennsic War |
| Hala bint Hasanah | 2018 | October | 13 | Ghosts, Ghouls, & Goblins |